Millions of people have joked about
selling the Brooklyn Bridge. One man
has actually done itÖ
Now You Can Own An Authentic
Piece of the Original, World-Famous
Brooklyn Bridge and Claim Your
Unique Piece of History!

Dear Friend,
The year was 1983. The media was swarming around me as I became touted as the first person in history to successfully (and legally) sell the Brooklyn Bridge. I was selling pieces of the original wooden walkway that was put down when the bridge was built 100 years earlier in 1883. A true piece of Brooklyn Bridge history.
To make a very exciting story short, my Brooklyn Bridge adventure became international news very quickly. Even Johnny Carson did a special segment on his show about the Brooklyn Bridge. You can see a video of that segment below.
So What Happened Next?
That was over 25 years ago. You may have thought I simply vanished - another one hit wonder, never to be heard from again.
I'm sure all those folks who originally bought a piece of the bridge would like to hope so — they got a piece of a true national landmark. For the past 25+ years Iíve never once seen one of those original certificates for sale anywhere, including eBay. I guess that shows how much people value them!
But now, over 25 years later....
I'm Selling the Brooklyn Bridge —
Again!
But This Time, It's Bigger and Better than Ever...
Here's why:
I marked the 25th anniversary of my 1983 Brooklyn Bridge adventure by releasing a special
Signed Limited Edition Certificate
I've gone through the pieces of original Brooklyn Bridge wood that I have remaining and hand-selected the best of the lot — the ones with maximum "show" value.
Iíve attached each piece to a special certificate, printed with real silver ink (to commemorate the 25th, or silver anniversary of the successful selling of the Bridge).
This certificate is hand signed and numbered on the back by me — Paul Hartunian, the first person to really sell the Brooklyn Bridge. This authenticates your piece of the Brooklyn Bridge as 100% authentic.
But thereís more...
Thereís a second certificate with some history of my Brooklyn Bridge adventure. This certificate is also hand signed and numbered. On this certificate Iíve also applied the official 25th anniversary embossed seal that reads: "25th Anniversary of the Sale of the Brooklyn Bridge".
And thereís even more...
Both certificates are displayed in a beautiful padded certificate holder. On the front, in silver ink, is a striking image of the Brooklyn Bridge and the words: "25th Anniversary of the Sale of the Brooklyn Bridge".
All together, this is a remarkable historic treasure. Hereís what your certificate will look like: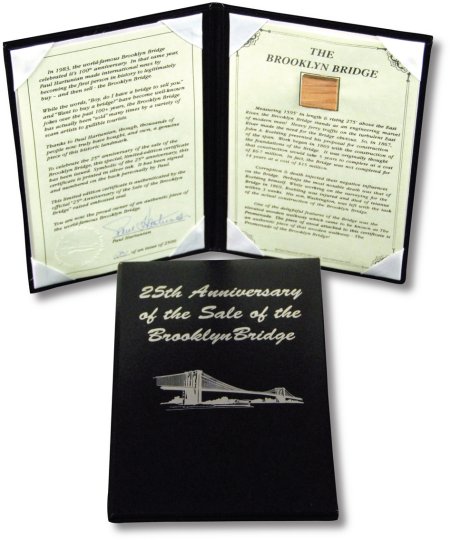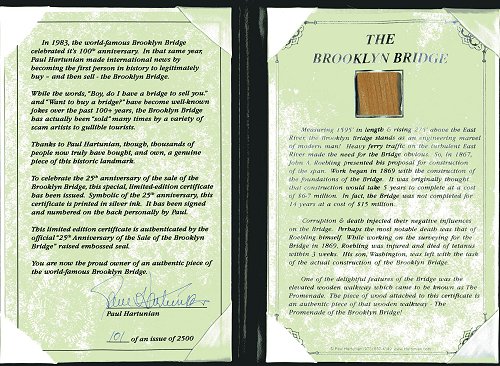 Why You Should Own This Unique
Piece of History?
Imagine the privilege of being able to hold in your hands a piece of our heritage - a piece of Brooklyn Bridge history. A token of our glorious past that you can pass down to your children or grandchildren...
Think for a moment about some of the things that can happen when you become an owner of this unparalleled memento...
| | |
| --- | --- |
| | Frame this on your wall and you'll forever have a conversation piece unlike any in your neighborhood. |
| | Are you a collector? This is an exquisite limited edition collectible. This is the last time this limited edition will ever be sold. |
| | Wake up every day feeling the pride of knowing you own something many people never believed was possible own. The special feeling that gives you is something thatís difficult describe. |
| | Become a "player" in United States history instead of an observer. You will become one of the few people to own a piece of one of the most famous bridges that ever existed - a true piece of American and Brooklyn Bridge history. |
| | Whether youíre on a date or at a social setting you'll never be short of a story that sets you apart from the crowd |
| | You can buy this one-of-a-kind collectors items for a loved one and give a gift of a lifetime. This is a gift they will never forget. |
| | If you choose to do so, you can sell the item to another collector and walk away knowing that you too "sold the Brooklyn Bridge". |
There's another reason you may consider purchasing one of these certificates. For over 18 years Mary and I have had an all-volunteer, non-profit dog rescue organization, AuntMarysDoghouse.com .We even have a dog sanctuary here in New Jersey. We take in abandoned dogs that need help such as surgery, medication, training, affection, etc. We get them all the care they need and we pay for everything. We then find a safe, secure, permanent home for these dogs.
When you purchase one (or more) of these certificates, I'll donate 100% of the funds to AuntMarysDoghouse.com . So you get a great collectible and AuntMarysDoghouse.com gets funding we always need.
BUT NOTE: This is a collectible, NOT an investment. If these certificates happen to go up in value, that's good luck, not smart investing.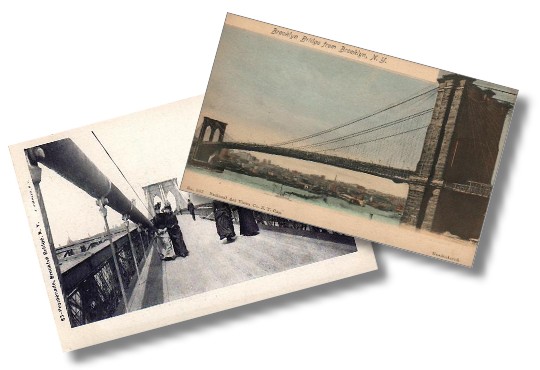 It's not every day that historical landmarks go up for sale. How many times have you seen an authentic piece of history up for sale? How many times have you had the opportunity to own a piece of history?
You now have the chance to become a member of the truly exclusive group of dedicated collectors who will ever own this piece of our nation's glorious past.
This is not one of those continuing "specials" that you see advertised again and again. Once these signed, limited pieces are gone — they're gone forever.
If we can boil it down to just three factors we might say that...
The Value of a Collector's Item is a
function of its: scarcity, uniqueness and
historical value
Letís see how well this item stacks up on these three factors.
Scarcity
An authentic piece of the Brooklyn bridge is a wonderful, limited piece of history. This limited edition is not available from ANYONE else and will not be at any time in the near future. It cannot be purchased anywhere but the very page you're on right now. There are only 2,500 available. Once they are gone, they're gone forever.
Uniqueness
The vast majority of people you come in contact with will think it's IMPOSSIBLE to own such a piece of history. When you prove that you are truly an owner, that makes the novelty of this particular gift all the more significant.
Historical Value
Completed in 1883 the Brooklyn Bridge has always been an unmistakable feature of the world famous New York City skyline. It's among the most recognizable structures in the United States, if not the world.. Throughout the Brooklyn Bridge history it's held world records as the longest suspension bridge in the world as well as the largest structure in the Western Hemisphere. Numerous historical events both joyful and sad have taken place on it.
It was the first suspension bridge to use steel for its cable wire. Few historical landmarks are more well recognized and more talked about than the Brooklyn Bridge. Owning a portion of this landmark is truly of unparalleled historical value.
BUT NOTE: This is a collectible, NOT an investment. If these certificates happen to go up in value, that's good luck, not smart investing.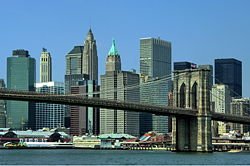 How many people can go through life saying that they did something truly special or unique in their lifetime? Owning a portion of the original Brooklyn Bridge will be that sort of highlight of your life. Itís a privilege that'll bring smiles not only to your face, but to the face of your children, grandchildren and great grandchildren.
This unique offer is not for everyone, you will see why in a moment.
But if you're serious about adding a new symbol of Americaís triumphs to your collection, preserving our heritage and enjoying all of the social benefits associated with becoming part of a very select group of people who can pride in ever owning a piece of American history, this offer may, in fact, be for you.
So How Much Does it Cost to Own
a Piece of the Brooklyn Bridge?
Because there are only 2500 of the signed limited editions available, theyíre priced as follows:
Certificates #100-2500 are $497 each with FREE Priority shipping.
I Hope You Won't Be Disappointed to Learn That
You Were the 2501th Person to Order!
There's one major difference between my sale of the Brooklyn Bridge in 1983 and my sale of the Bridge today...
You guessed it — the Internet.
Because of the sheer global scope of the web — this offer is going to be put out there for everyone to see — all around the world.
Also, I plan on doing a major publicity campaign once again. In 1983 the story of me selling the Brooklyn Bridge was picked up by the media all around the world. Now, with the Internet available to distribute my press releases, I expect an even greater response.
That's why I urge you... Don't wait to claim your historic, signed limited edition piece of Americana. Grab yours now, because the people who order first will get the lowest certificate numbers. In the art and collecting world, the lower the number on the certificate, the more desirable the piece.
Let me remind you of the times you didnít take action on something — and what you missed out on. Donít let that happen this time.
Of course nobody ever looks back on a offer they DIDN'T take and remembers that as the turning point in their lives.
Truthfully, you'll probably forget all about this invitation in a few days and move on to something else. But it'll be only the few select individuals who get this memento who will know the other side of the story.
Only a few will know what it means to be one who actually owns (and can sell) the Brooklyn Bridge.
So which story are you going to write for yourself?
This is One Decision You'll Be Proud to Make!
But I have to warn you — this opportunity will never come again. Unlike 25 years ago when I knew I wanted to save some pieces of the bridge for the future — I donít expect youíll be seeing a "50 year anniversary" sale.
You'll also never see this offer duplicated anywhere else. I am the only person who can legitimately offer these signed, limited edition certificates.
Remember, these aren't just some cheap rush-printed certificates. These are hand-numbered, signed, authentic displays of one of the most famous landmarks on the planet.
I promise itíll be a collector's item worth talking about!
Paul Hartunian,
The First Person in History to Successfully — and Legally — Sell the Brooklyn Bridge
P.S. A piece of the Brooklyn Bridge also makes a great gift for the history buff or the collector who has everything. It's a conversation-starter like nothing I've ever experienced. Just ask the crowd of reporters from across the nation who flocked to my door to interview me when I originally started selling the Bridge!
P.P.S: You'll never get another chance like this to claim your share of American history and help preserve our national pride. Once these — limited edition — collectors certificates are sold, this offer will be taken off the market forever, thus making each previously purchased certificate a truly exciting piece. Donít delay. Claim your piece today!
P.P.S: Remember, in the last 25 years I have never seen or heard of any of the original certificates being resold — and I suspect that many of the previous owners and collectors are just waiting for the day when they will pass these certificates down to their children or grandchildren, as a reminder of the glorious deeds of those who came before us. Secure your familyís legacy by requesting your — limited edition — certificate today!
P.P.S. Once the 25th Anniversary Brooklyn Bridge certificates are sold out — theyíre gone for good. Please don't ask if I have any of the limited edition left after the 2500th certificate is issued. I won't. Don't put it off until it's too late. Get a piece of history that was 25 years in the making!
P.P.P.S. - And one more time, remember this is a collectible, NOT an investment. Buy it because you like it, not because you hope to be able to retire when you sell it.
© Copyright Paul Hartunian, LLC, Box 271, Hope, NJ 07844 — (908)362-7130 - All rights reserved.